Case-Shiller: Phoenix home prices up but still lag US average, other Western cities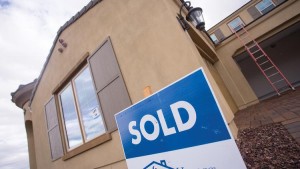 Courtesy of Mike Sunnucks Senior Reporter Phoenix Business Journal 
Phoenix home prices are up for a seventh straight month compared to year earlier, according to the much-watched Standard & Poor's/Case-Shiller Home Price Index.
Phoenix's growth rate in the most recent Case-Shiller report is 4.1 percent compared to a year earlier.
That is below the national average of 4.5 percent and trails hotter Western housing markets. Phoenix again has the lowest housing price growth rate among the nine Western cities in the Case-Shiller report.
Denver posted 10.2 percent growth in its home prices in June vs. June 2014, according to new Case-Shiller numbers out today.
That is the highest of the 20 large U.S. metro areas tracked in the index.
San Francisco is next at 9.5 percent followed by Dallas at 9.2 percent and Portland at 7.8 percent.
Denver and San Francisco previously have been the best-performing U.S. markets in the housing index.
Phoenix's index growth is better than East Coast cities and Chicago but trails Los Angeles, Las Vegas and other Western housing markets.
Economists and real estate executives are not sure what impact stock market turmoil from Wall Street to China will have on real estate. It could discourage baby boomers and retirees from buying second and retirement homes if their portfolios are down. The declines also could reduce foreign investment, especially from Asia, in real estate.
Conversely, there could be a flight away from stocks to real estate if investors see safety in the latter.
City Housing price index growth rate (June 2015 vs. June 2016)
Phoenix: 4.1%
Denver: 10.2%
San Francisco: 9.5%
Dallas: 9.2%
Portland: 7.8%
Los Angeles: 6.3%
Las Vegas: 6.1%
Seattle: 7.4%
San Diego: 7.8%
Boston: 3.3%
D.C: 1.6%
Chicago: 1.4%
New York: 2.8%
U.S. average: 4.5%