8 Phoenix-area cities hit top 50 healthiest US housing markets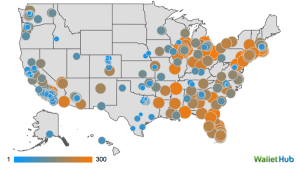 Courtesy of Eric Jay Toll Reporter Phoenix Business Journal
Eight Arizona cities are rising in the ranks of healthiest housing markets in the U.S., according to a WalletHub study. They all landed in the top 50 healthiest U.S. housing markets for comparably sized cities based on population.
Gilbert, a midsize city, ranked the highest of the Arizona cities at No. 11. Chandler was next at No. 22 and Tempe r
anked No. 28 in the midsize cities. Among large U.S. cities Mesa ranked No. 40 and Phoenix was No. 46.
The website consolidated rankings in 14 criteria, including pricing, percent of homes still under water, days on market, affordability, and other measures to determine the healthiest markets in the U.S.
Texas topped the healthiest markets list with No. 1 positions for Austin (large), Plano (midsize) and Frisco (small).
Other Western markets ranked high as well. Seattle (No. 2, large) and Denver (No. 3, large) ranked higher than all Arizona cities. Salt Lake City (No. 21, midsize), trailed Gilbert, but was just one ranking ahead of Chandler.
Rank of Arizona cities among healthiest U.S. residential real estate markets
11 Midsize – Gilbert
22 Midsize – Chandler
28 Midsize – Tempe
35 Midsize – Peoria
36 Midsize – Scottsdale
40 Large – Mesa
46 Large – Phoenix
49 Large – Tucson
55 Midsize – Glendale
88 Small – Surprise
123 Small – Yuma
Source: WalletHub