Litchfield Park Arizona – Property Management – Homes for Rent
Litchfield Park Property Management
Litchfield Park, AZ is a residential community 16 miles west of Phoenix. It offers a small town atmosphere and casual lifestyle perfect for anyone who loves that slow rural life. The added benefit of Litchfield Park, however, is that Phoenix in so close, so if you want a fast-paced city night, you're only a short drive away. You would do well to check out the fantastic homes for rent in Litchfield Park.
Desert Wide property management offers Litchfield Park rental homes in golf course communities, gated communities, mountain view subdivisions and luxury estates. Our inventory of rental properties includes seasonal and vacation winter rentals, however most houses for rent are offered on an annual basis. We have in property management an inventory of over one thousand residential homes for rent throughout the Greater Phoenix Metro Area.

Featured Communities in Litchfield Park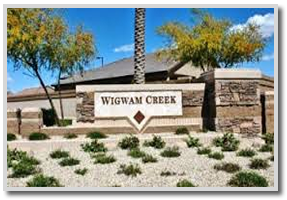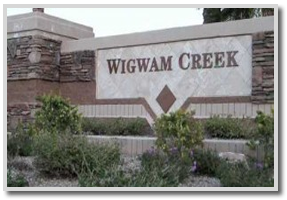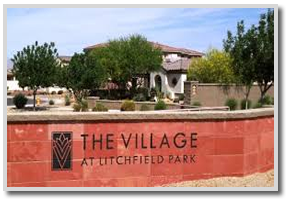 Village at Litchfield Park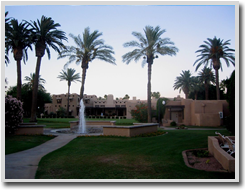 Litchfield Park property management and homes for rent. The following community information shows why so many people have chosen Avondale AZ as a place to live. Homes for rent are being placed into property management daily.
The Wigwam Resort Hotel, which opened to the public in 1929, is a prime destination for visitors and locals alike. Originally built for Goodyear executives, anyone can now enjoy this lovely resort. Through the years it has retained its popularity and is now ranked as a four-star establishment and one of the highlights of the Litchfield Park community. The Wigwam provides nearly a thousand jobs as well!
Luke Air Force Base, two miles north of Litchfield Park also contributes significantly to economic stability of the area. It is the largest training center for F16 fighter pilots in the world. As a result of its close proximity, much of the Litchfield Park community includes retired military personnel who enjoy the warm weather and benefits of the base. Other large corporations have facilities nearby; Morton Salt has a plant just north of Litchfield Park and nearby Goodyear is home to Rubbermaid, Lockheed Martin and the Lufthansa Pilot School. The Palo Verde Nuclear Generating Station is 30 miles away and provides additional job opportunities.
The sunny Arizona climate of Litchfield Park is perfect for year-round activities. Take a look at White Tanks Regional Park, named for natural rock water tanks once used by local Indians. Many unusual petroglyphs and rock carvings can be found in this 26,000-acre park. Other outdoor attractions include Estrella Mountain Regional Park to the south and the Wildlife World Zoo. Nearby Desert Sky Pavilion has seating for 18,000 and host about 50 major shows each year. A short drives takes race fans to Phoenix International Raceway, which hosts NASCAR in October. Phoenix also has many venues devoted to the fine arts: a symphony hall, many theater groups and buildings, and a host of museums.
Because Litchfield Park is supported by many commercial enterprises its residents have the additional benefit of paying no property taxes. Litchfield Park is a oasis to those seeking the rustic unspoiled desert lifestyle so take a look at lovely Litchfield Park today!
Communities That We Serve: