Gold Canyon Arizona – Property Management – Homes for Rent
Gold Canyon Property Management
Gold Canyon is located on the eastern rim of the Phoenix metropolitan area, at the foot of the scenic Superstition Mountains.
Easy freeway access makes a short commute to the East Valley communities of Mesa, Gilbert, Chandler and Tempe. With the magnificent backdrop of the Sonoran Desert and the elevated topography, every direction presents panoramic mountain vistas, cooler climate, and pristine flora and fauna. The community is graced with hiking trails, bike paths, public golf courses, new churches, schools, and a rich variety of public facilities. For information on average home, condo or townhome prices in Gold Canyon, please review statistics at MLS4AZ.com
Desert Wide Property Management offers rental homes in master-planned golf course communities, gated subdivisions, mountain view estates and equestrian friendly neighborhoods in Gold Canyon. Our inventory of rental properties includes seasonal and vacation winter rentals. Although, most houses for rent are offered on an annual basis. If you are interested in living in the town of Gold Canyon, take a photo tour of the homes for rent. You can also view satellite images of communities throughout Golf Canyon offering condominiums, patio homes, and houses for lease or rent.

Featured Communities in Gold Canyon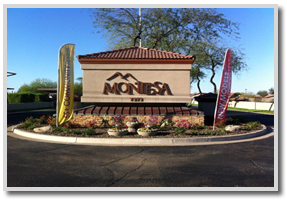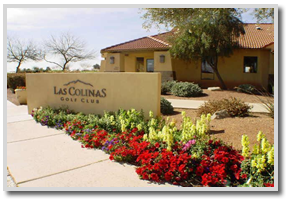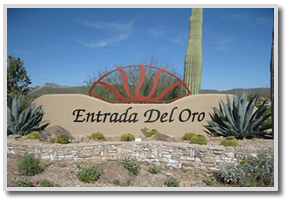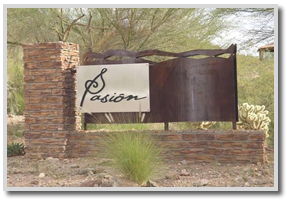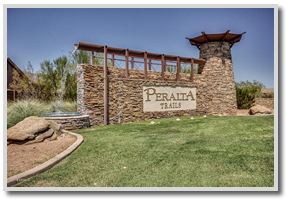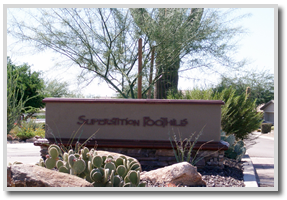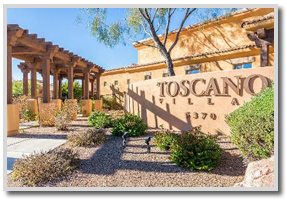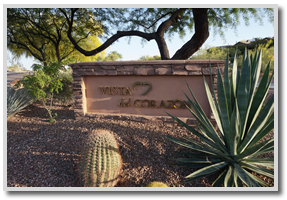 Other Communities in Gold Canyon
El Mirador
Mesa Del Oro
Fairway Views
Gold Canyon Estates
Golden Springs
Herosa Hills
Hieroglyphic Trail
Mountain Whisper
Mountainbrook Village
Visa Point
Tesoro Townhomes
Sunrise at Gold
Canyon Ranch
Superstion Mountain Gold & Country Club
Gold Canyon property management unites people seeking a property to rent to the ideal residence. The following community information shows why so many individuals have chosen Gold Canyon, Arizona as a place to call home. Homes and condos for rent are being placed into property management daily.
Gold Canyon is located on the eastern rim of the Phoenix Metro area, 30 miles east of downtown Phoenix. It is not an incorporated city, however, has seen tremendous growth in the past six years. Most of its residential properties have been built since 1996. Commercial development has allowed an increasing number of services, shops and restaurants developed in Gold Canyon. Future growth in Gold Canyon is limited because of the physical restraints of the Superstition Wilderness State Preserve and the Tonto National Forest. Within close proximity is the convenient freeway access to U.S. 60. Neighboring East Valley communities of Apache Junction, Mesa and Gilbert are a short commute to the west. Access to retail, dining and movies is nearby at the Superstition Springs Mall or the San Tan Village shops.
The breathtaking scenery of the Superstition Mountains dominates the town of Gold Canyon. Its elevated topography not only presents panoramic mountain views, but also provides a slightly cooler climate than the East Valley and is often above the smog level of Phoenix. Gold Canyon is ideal for year-round living.
Gold Canyon offers its residents wonderful amenities including five 18-hole golf courses and dozens more within a 30-minute drive. The Gold Canyon Golf Club offers avid golfers its Dinosaur Course. The community is graced with hiking trails, bike paths, places of worship, schools, and a rich variety of public facilities.
Surrounding Sonoran Desert wilderness has vast areas of State Trust Land and National Forest with pristine flora and fauna. This public land is used by its residents for horseback riding, rock climbing and hiking, and bicycle riding. Many of the trails reward outdoor lovers with the most extensive unspoiled petroglyph assemblages in central Arizona. Gold Canyon is also a short distance to nearby Canyon Lake that offers a paradise for boaters.
Many winter visitors and investors have purchased second vacation homes and investment properties resulting in an abundant supply of both furnished and unfurnished homes for rent in Gold Canyon.
Communities That We Serve: