Virtual Tools: Best Real Estate Apps For Buyers and Sellers
by Paul Esajian | Fortune Builders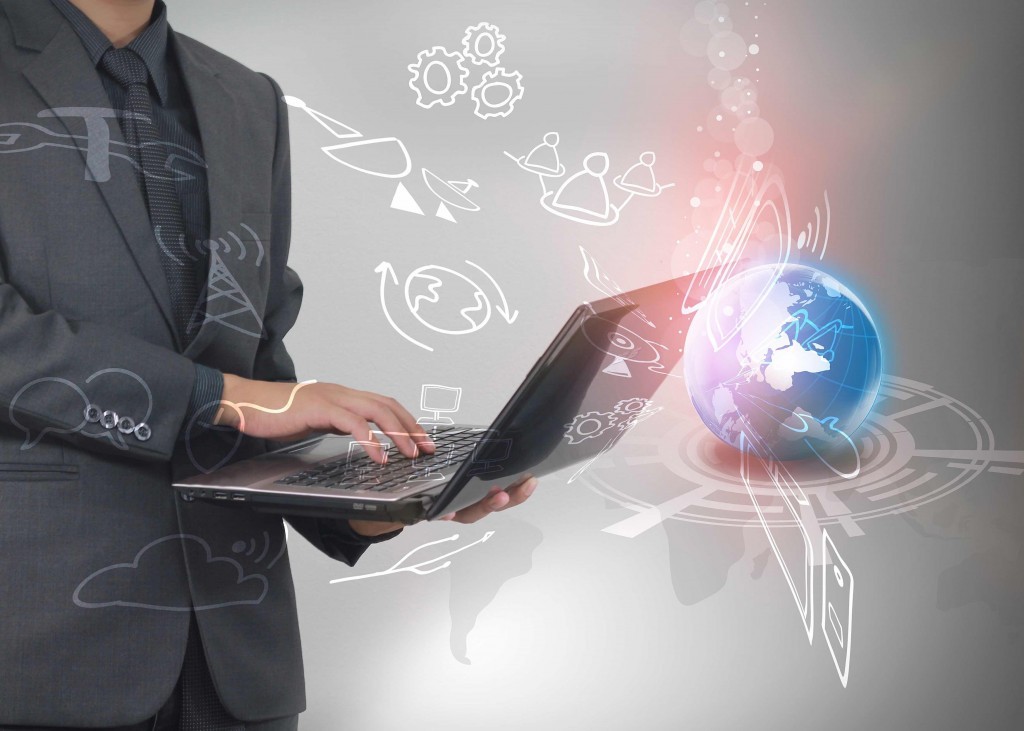 The best real estate apps being used today award both buyers and sellers the opportunity to be efficient. Along with relationships, efficiency is a key ingredient for success among professionals in the industry, and one that shouldn't be taken lightly. Social media and mobile apps have granted professionals in the real estate industry the technological tools to streamline processes, get real-time information and ensure efficiency is maximized along the way. Whether buying or selling, these are the best apps for real estate professionals:
9 Real Estate Apps You Can't Afford Not To Use
1. Redfin
Redfin continues to be the main destination for homebuyers, sellers and real estate agents alike. Their mobile app, which is available in 83 major U.S. markets, specializes in efficiency as it updates listings every 15 minutes, allowing prospective buyers to optimize their search with the assistance of the company's extensive database of more than 70 million addresses, whether it's by neighborhood, school zone, ZIP code or city.
"What no one really understands about Redfin is the basic secret sauce of the business isn't technology. It isn't service. It's the combination of the two," said Redfin CEO Glenn Kelman.
Although Redfin hasn't surpassed your traditional brokerage, yet, the app has become a great tool in terms of comparables, which are used to establish a price range for a home based on current market activity. This includes everything from the last sale price, number of bedrooms and baths, age and style of home, condition, lot size, and views and waterfront access.
Redfin is available for Android and iOS.
2. Houzz
Preparing to list or remodel your house? Houzz will streamline the renovation process for you. Launched in 2009, the app is a revolutionary new way to design a home, providing prospective buyers and sellers access to over nine million interior design photos, home decor, decorating ideas and home professionals online. Making things even sweeter, Houzz recently added a Real Estate Agents category in their directory that offers agents the ability to list themselves with a profile, for free.
Something to think about: 15 percent of "Houzzers" are planning to buy a home in the next two years, and 10 percent of them are planning to build a custom home in that time frame.
Houzz is available for iOS.
3. Zillow Real Estate
As the leading real estate marketplace, Zillow is a must-have app for professionals in the industry. Designed to put you and your house on the map with the click of a button, the app allows users to seamlessly browse homes for sale and rent, including access to more than one million listings not on MLS.
Zillow recently integrated a new video feature into the app, Video Walkthrough, which gives buyers a more realistic view of what to expect from a home. Sellers can even create their own video walkthrough by visiting the app. However, an agent will have to approve the video before it goes live.
Zillow Real Estate is available for Android and iOS.
4. Homesnap
As the Snapchat of real estate, Homesnap works by allowing users to take a photo of any home nationwide and then receive instant information on it from MLS listings, including additional information such as census data, property tax records and more. Founded in 2008, the app has become on of the top-rated real estate apps for home buyers and sellers, providing real-time access to agent-only MLS data as well as unique branding aspect for agents to promote themselves. In fact, Homesnap has all the tools for agents, teams and brokers, including production metrics, agent rankings and reports.
"I like the fact that I can send free private messages to my clients," said Jennifer Branchini, a real estate agent. "Even if they don't have the app; it sends the messages as texts. So you can send a link with the property photo and details and chat about it. The mapping feature is useful, too. I can snap a picture and it keeps a history of all my snaps."
Homesnap is available for iOS.
5. Realtor.com Real Estate
Realtor.com Real Estate is the ultimate app for potential home buyers. Available for Android and iOS, the app provides property listings sourced directly from over 800 MLS — refreshed everything 15 minutes — and offers everything from detailed photos of properties, intimate details such as property tax and sales history, combined with easy-to-use search options.
Specifically designed for agents, "The Find" app by Realtor.com is the pefect app for real professionals on the go. The app provides unique options like cross-sharing of private listing data between partner MLSes, member directory, and even a showing scheduling service which enables agents to easily schedule showings from the app.
Realtor.com Real Estate is available for Android and iOS.
6. Premier Agent
The Premier Agent app from Zillow is the definition of efficiency. It provides realtors instant access to property listing inquiries from both Zillow and Trulia, as well as the ability to manage listings, profiles and reviews in one central location. A new version of the app also includes a video walkthrough feature to bring listings to life.
The Premier Agent app is available for iOS.
 7. Mortgage Calculator by Quicken Loans
Crunch numbers on the go with Mortgage Calculator by Quicken Loans, an easy to use app where users can estimate their loan amount, interest rate, and term or monthly payments with the click of a button. As the nation's number one online lender, Quicken Loans recently launched another mobile app called Rocket Mortgage, where customers can reduce their mortgage application process down to a measly eight minutes.
"Rocket Mortgage lets you lock your interest rate and submit application documents on-the-fly online, and then we go to work on the approval and putting the application through quality checks," said Regis Hadiaris, Rocket Mortgage Product Lead at Quicken Loans' technology innovation department.
Mortgage Calculator and Rocket Mortgage are available for iOS.
9. Trulia Real Estate
Another must-have app for the real estate professional, Truila Real Estate allows users to peruse millions of listings nationwide, providing users with everything from updated listing of homes for sale, apartments for rent and open houses, to high-resolution photo galleries and comprehensive information like school ratings and crime rates in the area.
Truila Mortgages, another app from the company, simplifies the process of calculating mortgage payments. If that's not enough, there's also the Truila Rentals and Truila Agent app. Talk about efficiency.
Truila Real Estate, Mortgage, Rentals and Agent are available for Android and iOS.
10. DocuSign for REALTORS
If you're looking to maximize time, DocuSign for REALTORS is a no brainer. The app combines the power of eSignatures and DocuSign Transaction Rooms to make it simple for users to keep transactions organized while on the go. Not to be out done, there's also a DocuSign Broker Edition, which assist in managing transactions across an entire business while also providing mobility to agents.
DocuSign for REALTORS and DocuSign Broker Edition are available for Android and iOS.
With the competitive nature of real estate being what it is today, it's important to stay ahead of the curve. Technology will continue to enhance the landscape of real estate for buyers and sellers, and it is up to you to remain in the know. For those in the industry, these are the best real estate apps users can't afford to go without.
Whether you own a single-family rental home or a large apartment complex, property insurance is crucial to protect your rental property from many types of perils. An experienced agent will analyze your rental operation and recommend a policy for you.
What Property Insurance Covers
Most property insurance covers damages or losses from fire, storms, and burglary. Be sure to check out whether your policy will cover "loss of rents" as a result of one of these perils (such as a fire in your building which makes a unit uninhabitable).
Property insurance should also reimburse your losses from vandalism (whether by a disgruntled tenant who punches holes in an apartment wall or a local teenager who paints graffiti on the side of your building). Always report vandalism to your local police department (your insurance company may require a police report before reimbursing you for vandalism-caused damage).
Property insurance does not cover all losses (mudslides, for example, may be excluded), so be sure you know what is and is not covered and the dollar limits of your policy.
Earthquake, Flood, and Other Insurance
Depending on where your property is located, you may want to purchase additional protection for special perils such as earthquakes and floods (these are not typically included in property insurance policies).
Liability Insurance
A comprehensive policy will also include liability insurance, covering injuries or losses suffered by tenants and others as a result of a defective condition on your rental property. For example, if your tenant breaks a leg as a result of falling down your broken front steps, liability insurance will cover the tenant's medical bills. Liability insurance will also cover lawyers' bills for defending personal injury lawsuits against you. The most comprehensive type of liability insurance covers libel, discrimination, unlawful or retaliatory eviction, and invasion of privacy (with some exclusions, such as intentional acts or violations of criminal statutes).
Renters' Insurance
Many landlords (particularly in high-end rentals) require tenants to buy renters' insurance. This covers the tenant from losses or damage to their belongings due to theft or fire. Renters' insurance also covers as injury to other people or property damage caused by the tenant's negligence.
By Glenn Curtis
Investopedia
Those who consistently make money in real estate know the market. They know the location and the history. They know what new developments are planned. They know the transportation and the schools. They know everything about the area where they invest. They have to know it all.
Staying ahead of the competition in real estate investment means doing your homework. If you are new to the business, it can be daunting, but in this article we'll teach you five tricks that the old pros use to get ahead of the trends instead of chasing them.
Those who consistently make money in real estate know the market. They know the location and the history. They know what new developments are planned. They know the transportation and the schools. They know everything about the area where they invest. They have to know it all.
Staying ahead of the competition in real estate investment means doing your homework. If you are new to the business, it can be daunting, but in this article we'll teach you five tricks that the old pros use to get ahead of the trends instead of chasing them. (To learn about the perks of real estate investing, see our Exploring Real Estate Investment Tutorial and Investing In Real Estate.)
Study Local Pricing
The first things to study are the current price trends in the area. For example, a potential investor should look to see if the price of homes is accelerating faster in one area than in others. Next, check to see if the average home price is more than in other neighboring towns. This will provide an idea of where the biggest demand is. Another reason to study these trends is that, over time, you will start to develop a sense for which prices are "fair" for certain properties and which are overpriced. For individuals looking to buy properties at the lowest cost possible, this knowledge can be invaluable.
Look for a Catalyst
One sign that an area is up-and-coming and that it will be desirable in the future is the development of new infrastructure. When you see new roads and schools being built, it's a sign that the community is set for a growth spurt. Investing in a growing community can be very profitable. In addition, certain types of development, like new shopping centers, may be extremely attractive to home buyers, and may also help keep the tax base low.
Spotting new developments can be as easy as looking out your car window as you drive by. Telltale signs of land clearing, surveying or the beginnings of construction in and around major roadways are pretty big tip-offs. Also, look for widening of traffic lanes, the installation of turnaround lanes and the erection of new traffic lights. All suggest the possibility of increased traffic flow.
Next, visit town hall at the municipality or the county level, and speak with the road and the building departments. They should be aware of any major projects slated to begin in the area, and they may even be able to provide you with a connection at the state level so you can find out if any state-owned roads or properties are slated for development as well. Real estate agents also have general idea of what new projects are about to be undertaken.

Explore Low-Tax Alternatives
If there are two towns side by side – one with high property taxes (or with progressively rising property taxes) and the other with low property taxes – the one with the lower taxes will usually be more in demand.
Real estate agents can help you determine which areas have the best and worst tax structures. In addition, a simple call to the local tax assessor can reveal how much the town charges in taxes per $100 of house. The assessor can also let you know when the last time the area was evaluated by the township. Also watch to see if a reassessment is set to take place in the near future, as it may mean that property taxes are about to go up. Beware of towns and communities that are becoming overcrowded. Signs include schools filled to capacity and inferior roadways. This could mean the town will have to do some major construction to accommodate the influx of people. And how do they pay for that construction? Tax dollars.
Check the School Rankings
Nearly every state ranks its schools by how well students in each district fare on tests in math and English. Sharp-eyed investors should look for schools that are moving up or are atop the list. These areas are often desirable to parents. Access to quality education is a big selling point to new home buyers.
There are several ways to find this information. Check our your state's board of education website. Also, PSK12.com has public school rankings for most states in its free section. Visiting the schools yourself is also a good idea. Schools that rank the highest are usually quite eager to provide information.
Watch the Outskirts
If the properties in a major city or town have become overpriced, the areas on the outer fringes most likely will soon be in demand. Areas in close proximity to major bus and rail transportation are even more desirable Nearly any area that is about to install a major train stop or a new major bus route will see its proverbial stock go up in value.
To find out what's planned, you can check with the local railroad or bus company to see if they will be expanding service in the area. The local town hall or planning department will also have this information.
Bottom Line
It pays to do your homework and to tap local resources to determine which areas are hot now and, more importantly, which ones will be hot in the future. Much of the information is out there and free for the taking. You just have to be willing to do the leg work.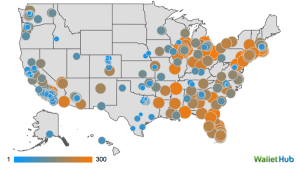 Courtesy of Eric Jay Toll Reporter Phoenix Business Journal
Eight Arizona cities are rising in the ranks of healthiest housing markets in the U.S., according to a WalletHub study. They all landed in the top 50 healthiest U.S. housing markets for comparably sized cities based on population.
Gilbert, a midsize city, ranked the highest of the Arizona cities at No. 11. Chandler was next at No. 22 and Tempe r
anked No. 28 in the midsize cities. Among large U.S. cities Mesa ranked No. 40 and Phoenix was No. 46.
The website consolidated rankings in 14 criteria, including pricing, percent of homes still under water, days on market, affordability, and other measures to determine the healthiest markets in the U.S.
Texas topped the healthiest markets list with No. 1 positions for Austin (large), Plano (midsize) and Frisco (small).
Other Western markets ranked high as well. Seattle (No. 2, large) and Denver (No. 3, large) ranked higher than all Arizona cities. Salt Lake City (No. 21, midsize), trailed Gilbert, but was just one ranking ahead of Chandler.
Rank of Arizona cities among healthiest U.S. residential real estate markets
11 Midsize – Gilbert
22 Midsize – Chandler
28 Midsize – Tempe
35 Midsize – Peoria
36 Midsize – Scottsdale
40 Large – Mesa
46 Large – Phoenix
49 Large – Tucson
55 Midsize – Glendale
88 Small – Surprise
123 Small – Yuma
Source: WalletHub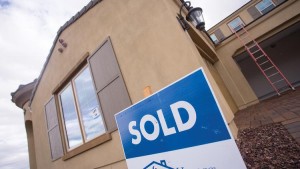 Courtesy of Mike Sunnucks Senior Reporter Phoenix Business Journal 
Phoenix home prices are up for a seventh straight month compared to year earlier, according to the much-watched Standard & Poor's/Case-Shiller Home Price Index.
Phoenix's growth rate in the most recent Case-Shiller report is 4.1 percent compared to a year earlier.
That is below the national average of 4.5 percent and trails hotter Western housing markets. Phoenix again has the lowest housing price growth rate among the nine Western cities in the Case-Shiller report.
Denver posted 10.2 percent growth in its home prices in June vs. June 2014, according to new Case-Shiller numbers out today.
That is the highest of the 20 large U.S. metro areas tracked in the index.
San Francisco is next at 9.5 percent followed by Dallas at 9.2 percent and Portland at 7.8 percent.
Denver and San Francisco previously have been the best-performing U.S. markets in the housing index.
Phoenix's index growth is better than East Coast cities and Chicago but trails Los Angeles, Las Vegas and other Western housing markets.
Economists and real estate executives are not sure what impact stock market turmoil from Wall Street to China will have on real estate. It could discourage baby boomers and retirees from buying second and retirement homes if their portfolios are down. The declines also could reduce foreign investment, especially from Asia, in real estate.
Conversely, there could be a flight away from stocks to real estate if investors see safety in the latter.
City Housing price index growth rate (June 2015 vs. June 2016)
Phoenix: 4.1%
Denver: 10.2%
San Francisco: 9.5%
Dallas: 9.2%
Portland: 7.8%
Los Angeles: 6.3%
Las Vegas: 6.1%
Seattle: 7.4%
San Diego: 7.8%
Boston: 3.3%
D.C: 1.6%
Chicago: 1.4%
New York: 2.8%
U.S. average: 4.5%