Apache Junction Arizona – Property Management – Homes For Rent
Apache Property Management
Apache Junction is situated 35 miles east of downtown Phoenix and is within commuting distance. This picturesque town is at the base of the majestic Superstition Mountains and on the eastern edge of the Phoenix metropolitan area. Apache Junction was founded in 1950 and incorporated in 1978. It is about 36 miles in area and has a population of approximately 35,800 residents. With a total city planning area of 55 square miles, much of the land is still undeveloped and 15 percent is dedicated to park lands and open space.
Desert Wide Property Management can help you find a condo, townhouse or home for rent in Apache Junction, Arizona. Whether you are seeking a rental residence in a private gated development, mountain view property, or a golf course home, you can find the ideal dwelling here. Our inventory of rental properties includes vacation winter homes; however, most rental houses are offered on an annual basis. We have in property management an inventory of over one thousand residential homes for rent throughout the Greater Phoenix Metropolitan area.

Featured Communities in Apache Junction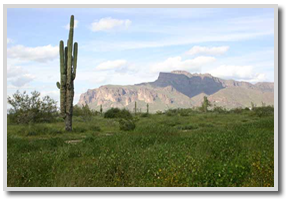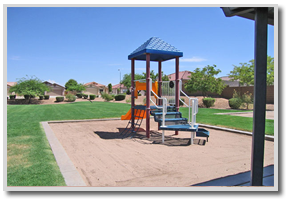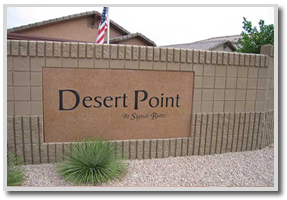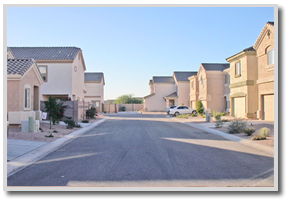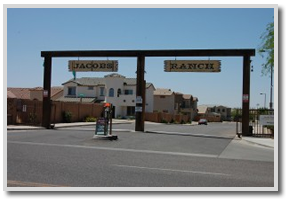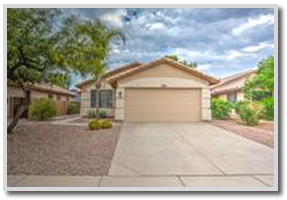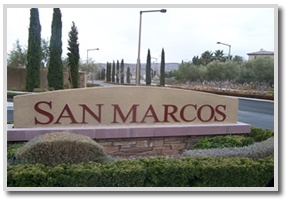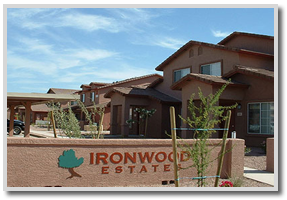 Other Communities in Apache Junction
Renaissance Point
Cimmarron
Apache Junction Property Management offers plenty of living choices for both individuals and those with families planning to rent or lease a home. Depending upon your lifestyle, choose from horse friendly homes, master planned single family detached houses and spacious manufactured homes. Those seeking a residence set on an extra large lot, rural acreage, a place with a swimming pool or an active adult community with a marvelous mountainside vista will find it here.
This scenic southwestern town has friendly neighborhoods and is an outdoor person's delight. The Superstition Wilderness Area is anchored by Superstition Peak which reaches over 5,000 feet and presents expansive view points for many of the existing and newer sub-divisions in Apache Junction.
Apache Junction is known as the gateway to the Tonto National Forest, the Superstition Wilderness, the Apache Trail, as well as the Salt River Chain of Lakes. It has long been a popular destination of seasonal winter visitors because of its mild winter climate and attracts as many as 40,000 winter visitors and retirees annually. Much of its commercial services in the area cater to tourists, retirees and recreation seekers on their way to Arizona's lakes and forests.
The Superstition Wilderness offers area residents and visitors rock petroglyphs to view and numerous hiking trails. Rock climbers will want to check out Weaver's Needle, a panoramic landmark. Some of the region's hiking trails include Peralta Canyon and the Miner's Needle area. Whether you enjoy horseback riding, picnicking or hiking, this area is ideal. The Lost Dutchman State Park boasts 320-acres and also offers camping, mountain biking paths and horseback riding trails.
Parents with children will find plenty of excellent public elementary, middle and high schools in the town of Apache Junction. There are a range of community amenities also including a comprehensive library, senior center, community swimming pool, a multi-generational center, and numerous park sites. An adult golf league is available in addition to sports camps for youngsters. Plenty of shops and retail outlets are close by. Apache Junction is a haven for recreation and outdoor natural attractions.
Communities That We Serve: